A new team has taken over and we are eager to start our journey of promoting a sustainable future by building the world's most efficient hydrogen powered city car. In this newsletter, we will look back at the achievements and activities of last year as well as update you on our vision for the coming year and our new workplace. We present an overview of news reports that have been published regarding our project and like every month, we include the latest news on hydrogen in our monthly newsletter.
Recap
We look back at a fantastic year, full of team- and personal achievements. Despite the challenges that came with the ongoing COVID-19 pandemic, we did everything in our power to produce the most efficient hydrogen powered citycar and we look back proudly.
At the beginning of last year the team temporarily settled in the Buccaneer Delft, a new location, large enough to maintain sufficient distance during work. We are grateful for their support and for giving us the opportunity to start working there on the new Eco-Runner XI in a safe and responsible manner. It allowed us to build our hydrogen powered city car and achieve great results over the course of a year. Here is a short overview of the main achievements that have been reached last year.
Winning the Hydrogen Efficiency Challenge
Unfortunately the on-track competition of the Shell Eco-marathon 2021 was canceled. This did however not stop us from organising our own race. We joined forces with Green Team Twente and HAN Hydromotive and the Hydrogen Efficiency Challenge was born. On friday June 11th, we presented our hydrogen city car at Circuit Park Berghem and tried to race the most efficient race.
After measuring the hydrogen levels at the beginning and the end of the race, the results of the day were announced and… We are proud to say that we, Eco-Runner Team Delft, won the Hydrogen Efficiency Challenge 2021 with an efficiency score of 3396 km/kg hydrogen! This efficiency broke our previous personal record of 2500 km/kg. We couldn't be more proud, a wonderful compliment to a year of hard work!


Breaking the World Record
On the 5th and 6th of July we broke the hydrogen world record distance with our Eco-Runner XI! By driving non-stop for 36 hours on one tank load (450 gr) of hydrogen and maintaining an average speed of 38km/h we were able to reach a record distance of exactly 1195.74 kilometers.

This distance broke the previous world record of 1003 km achieved by car manufacturer Toyota with their hydrogen car, the Toyota Mirai, while having a tank that contains 12 times less hydrogen than that of the Mirai. During the attempt, ten different drivers drove in different shifts over the R&TC Buitenlust, a velodrome in Helmond. We are extremely proud of the whole team and this great achievement and we want to thank you all for following our journey! Together we are promoting and realising future sustainable mobility.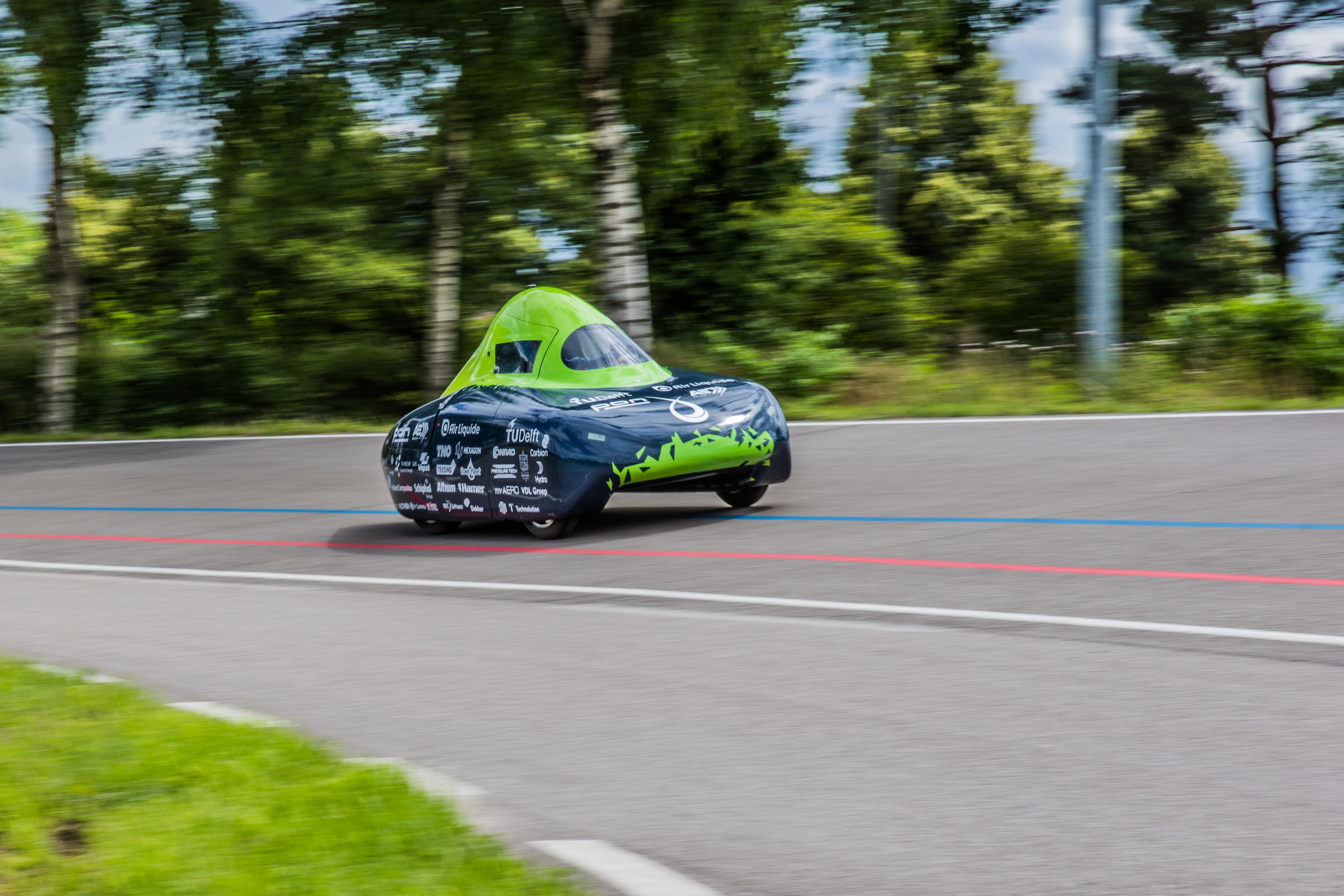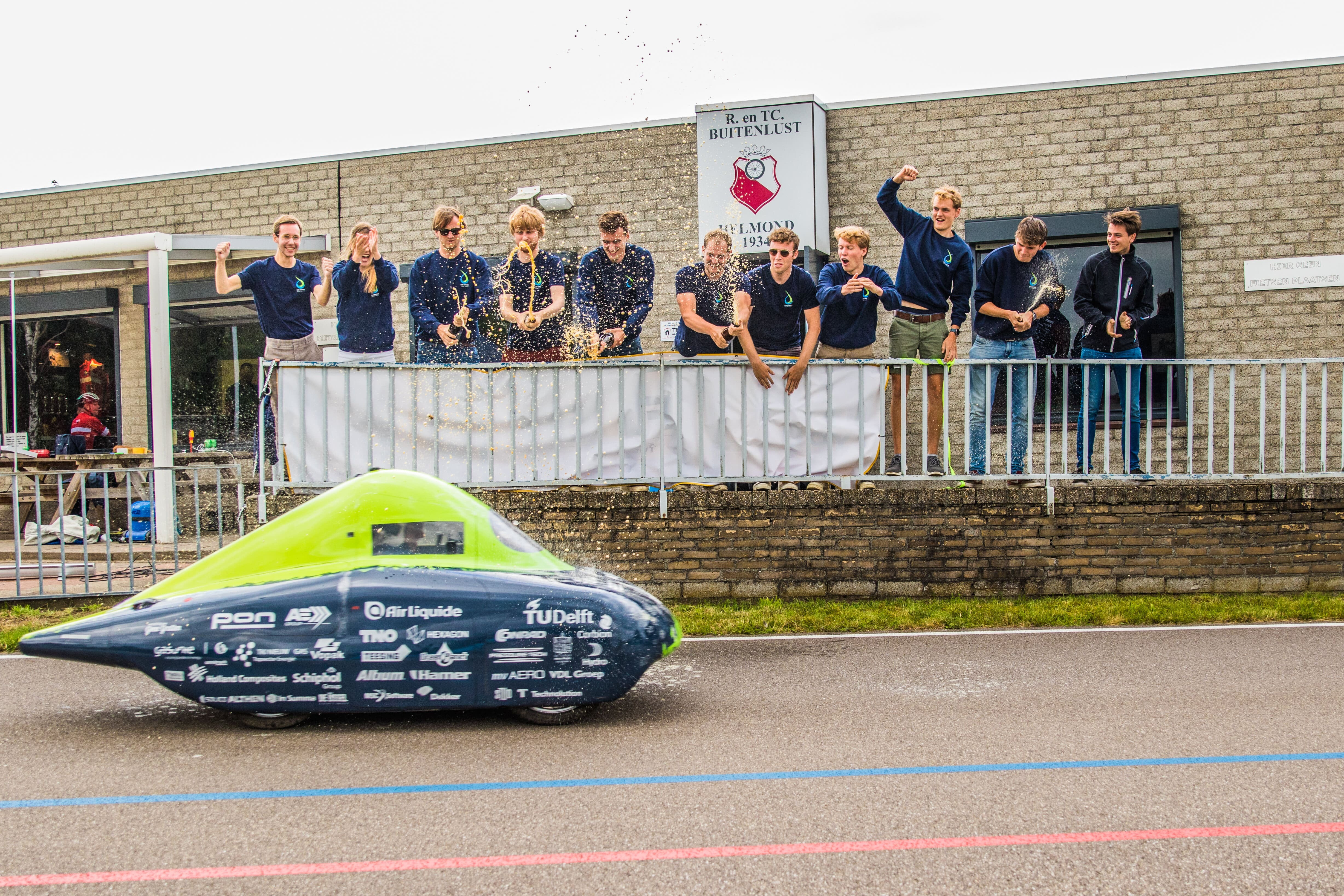 Eco-Runner Team Delft in the News
The successes of our team have not gone unnoticed. Our team has appeared on several news websites in the past months. Below you may find a selection of the different articles about Eco-Runner Team Delft and our vehicle, the Eco-Runner XI.

Studenten TU Delft proberen afstandsrecord met een waterstofauto te verbreken – NOS
Wereldrecord TU Delft met waterstofauto – RTL Nieuws
Delftse studenten verbreken record van Toyota: 1196 kilometer lang rijden op waterstof – AD
Gelukt: Studenten rijden wereldrecord met waterstofauto – NOS Jeugdjournaal
Studenten TU Delft gaan voor wereldrecord met waterstofauto – BNR
TU Delft breekt wereldrecord met waterstofauto – Omroep West
Studenten TU Delft leggen recordafstand van 1196km af met waterstofauto – Tweakers
Wereldrecord: 1196 km op 1 tank waterstof – H2Rijders
Delft University team breaks world record for longest distance travelled in a hydrogen vehicle – H2-view
World record broken for longest distance travelled in a hydrogen vehicle – Gasworld

Status quo
We proudly present you our new team! The new team, Eco-Runner Team Delft XII, consists of 21 students from Delft University of Technology and will compete at the Shell Eco-Marathon 2022 with one goal: winning. The physical event has unfortunately been cancelled for two years in a row due to COVID-19. Therefore, we hope we will be able to race in the more challenging class of the Shell Eco-marathon this year: the Urban Concept class, for the first time.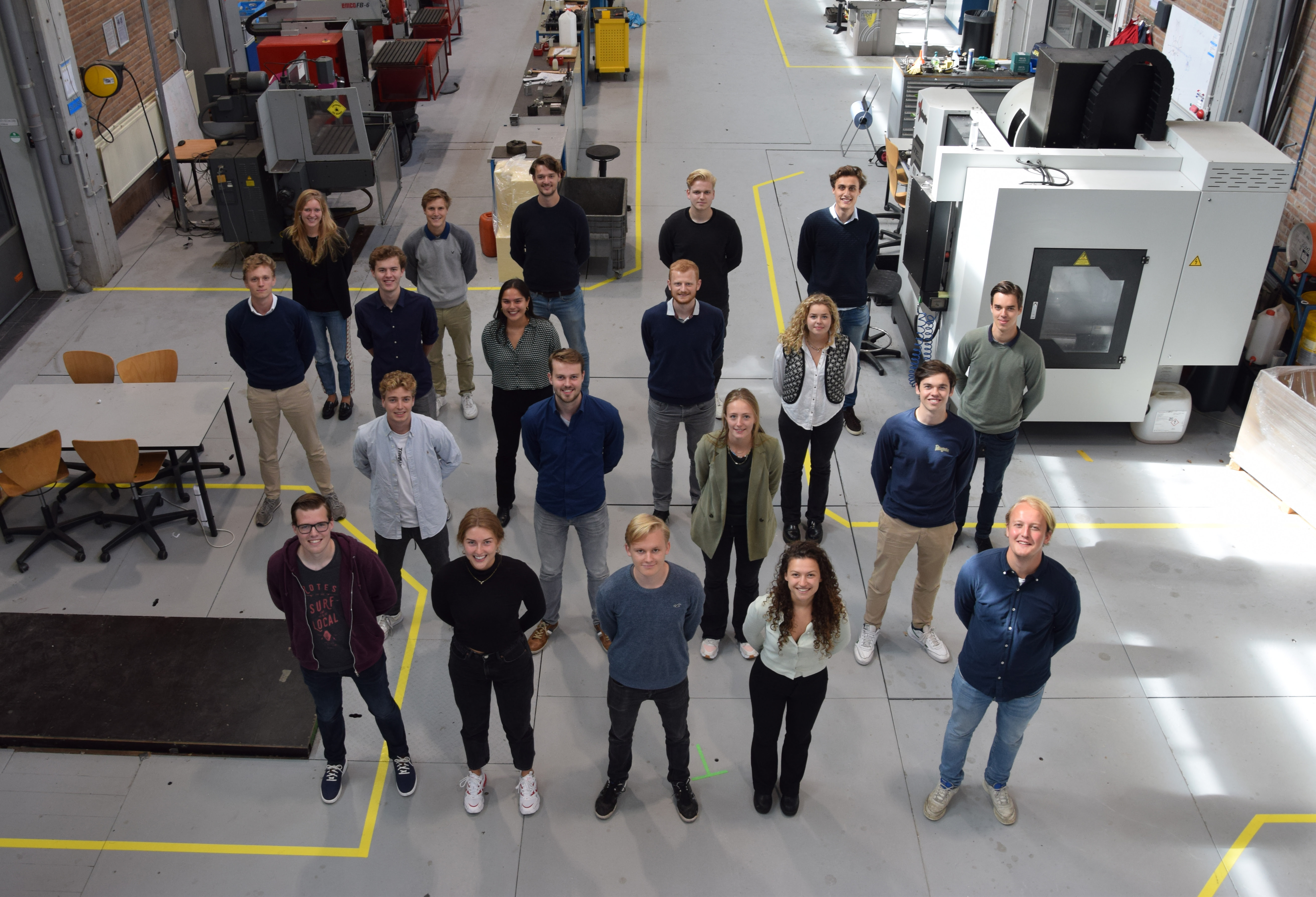 The first two weeks since the new team has started on the development of a new, improved hydrogen-powered citycar have mainly been about getting to know the team, the project and our new location. The observant reader might have noticed the Eco-Runner XI is missing in the photo, that is because she is in Zandvoort already!

Returning to the D:DREAM Hall
Thanks to everyone's hard work and enthusiasm in the last few weeks we have successfully moved back into the D:DREAM Hall after residing off the campus of the university for the past year.

The D:DREAM Hall is located on the TU Delft campus and home to multiple other successful student teams, facilitating innovation in a collaborative setting. This is an environment which will benefit our research and development greatly and we are looking forward to presenting all the developments that will be made this year!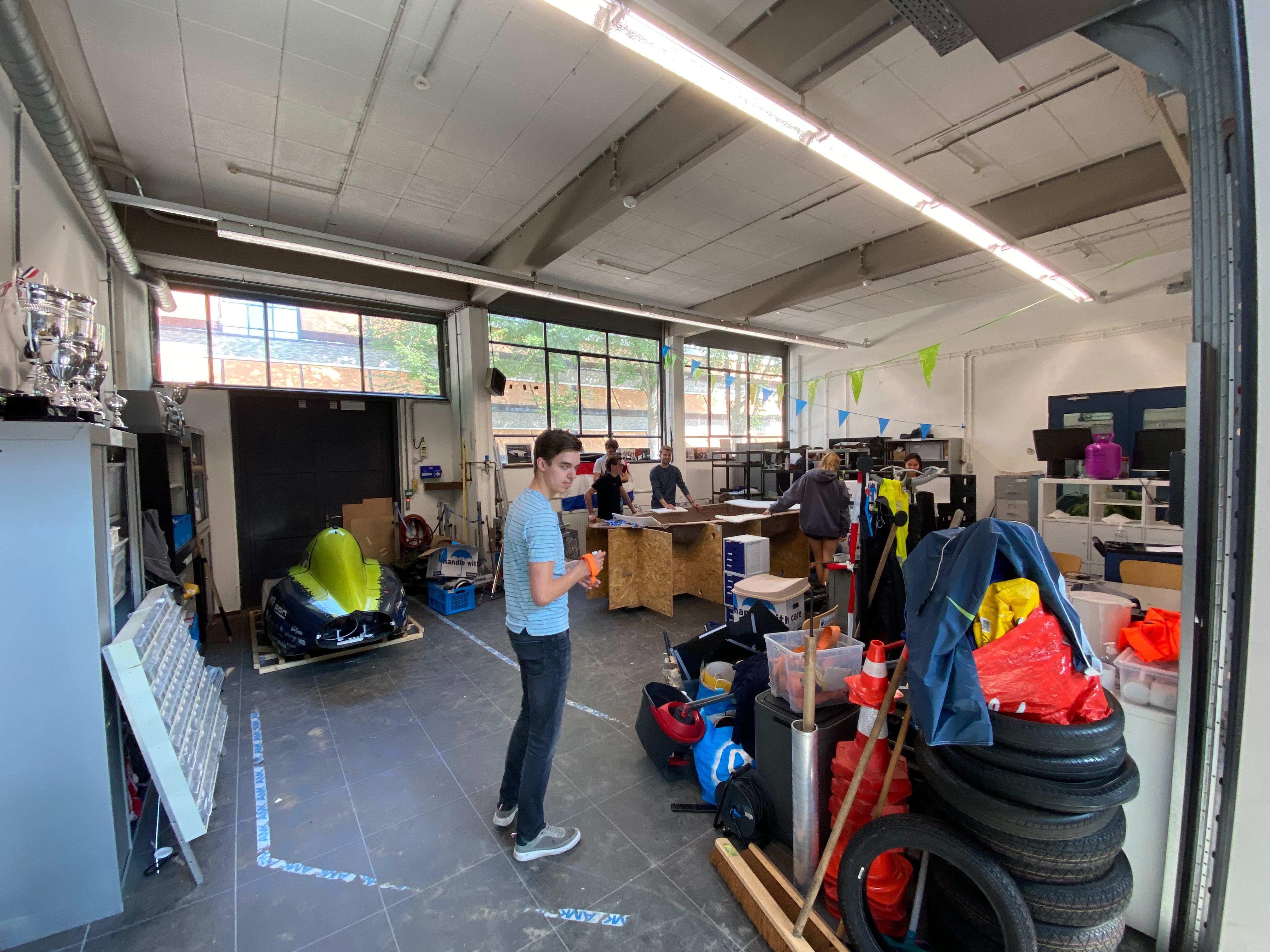 Events
After a holiday break the Eco-Runner has gone back to work and is ready for new events. With our new office and workplace we are excited to receive visits from our partners again in the future!

Upcoming…


3 t/m 5 September – Grand Prix Zandvoort


The Formula 1 circus will officially come to the Netherlands this weekend! This will make a dream come true for millions of sports fans in the Netherlands and we're excited to announce that also the Eco-Runner XI will be present in Zandvoort.

24 t/m 26 September – EV Experience
The smoke of Formula 1 at Circuit Zandvoort has just cleared when the circuit hosts the Electric Vehicle (EV) Experience fair. The Eco-Runner will be present at the event which is all about the latest innovations, EVs, accessories around EVs and a hydrogen congress on friday!

Partnerships
The achievements could not have been realised without the pleasant collaboration between Eco-Runner and our partners. Therefore we would like to give a special thanks to all our partners for a very special year!

Hydrogen News
€100m funding for more efficient offshore wind-to-hydrogen project
An offshore wind-to-hydrogen project in Germany coordinated by Siemens Energy AG is set to receive more than EUR 100 million of funding from the German Federal Ministry of Education and Research (BMBF). The H2Mare project aims to integrate an electrolyzer directly into offshore wind turbines for more efficient conversion of electricity in hydrogen. Additionally, without a connection to the electricity grid, infrastructure costs can be significantly reduced which lowers the price of hydrogen production.

Read more!

(World-Energy, 2021)



Swedish company is the first in the world to make steel using hydrogen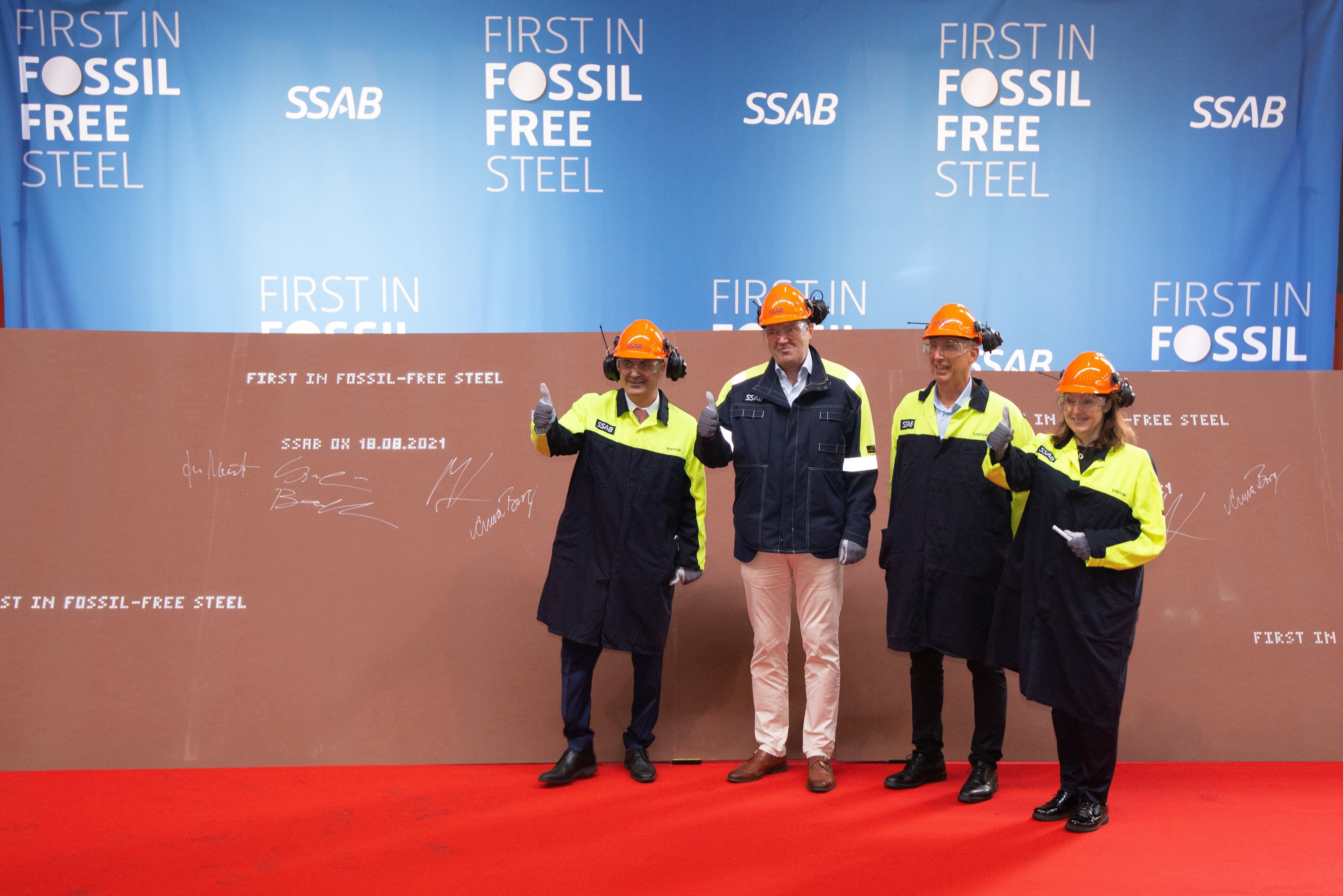 Steel manufacturer SSAB has produced the world's first fossil-free steel. Using HYBRIT technology, the first hydrogen-made steel has now come out of the furnaces and has been delivered to customer Volvo Group. It is an interesting development. After all, steel production releases a lot of CO2; It is responsible for 7 percent of total global CO2 emissions.

With the HYBRIT principle, the hydrogen serves as a so-called reducing agent to convert liquefied iron ore into pure iron, so-called Direct Reduced Iron (DRI), in blast furnaces. At the moment, carbon from coal or coke is still often used to purify iron ore, which releases more CO2.

SSAB states that new production with hydrogen is currently even more expensive than with coal, but a tipping point will come once CO2 emissions are taxed worldwide. SSAB aims to have the factory fully operational by 2026.

Read more!

(SSAB, 2021)

IPCC report underlines the urgency of stopping fossil fuel use
The new report from the IPCC, the climate panel of the United Nations, shows, among other things, that the climate is changing at an unprecedented rate and that humans are the cause. It states that the best estimate for the warming effect of human greenhouse gas emissions is 3 degrees, with a minimum of 2 degrees and a maximum of 5 degrees. This will have irreversible consequences such as more extreme weather and a rising sea level. If we want to limit climate change, it is at the very least necessary to emit net zero CO2. Fortunately, those opportunities exist in the field of hydrogen.

Read more!

(SSAB, 2021)

On behalf of Eco-Runner Team Delft,

Juli Muijderman and Thomas te Lintelo
Public Relations & Partnerships managers